THE ADVISORY PLAN
COMPLIANCE +
CYBERSECURITY +
IT MANAGEMENT
Establish your firm as an expert and go beyond your client's expectations to offer the best compliance & experience.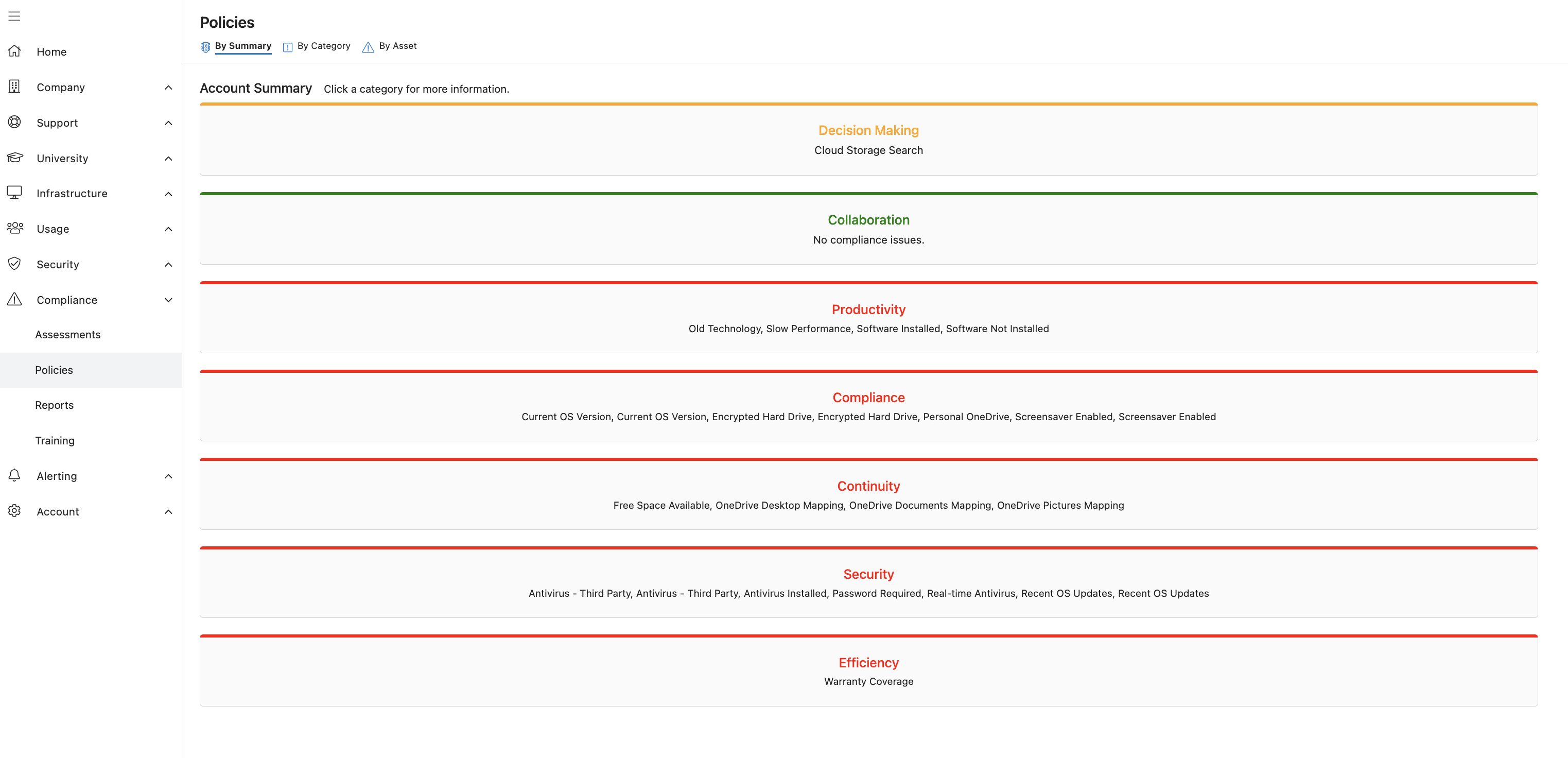 The Advisory Plan is for you if...
Your firm needs to meet specific regulations such as GLBA, HIPAA, GDPR, PCI, and more.
You are looking for a dedicated IT team to help with the day-to-day IT management & support.
You need a dedicated cybersecurity team to keep your information secured.
Your systems must be on the next level by building automation and efficient processes.
THE PLAN
What's included in the Advisory Plan?
Gain confidence with a mature compliance team. The advisory plan is broken into five buckets: Reactive Support, Proactive Support, Advanced Cybersecurity Support, Compliance Support, and Strategic Support.
Whether you need a security risk assessment or the execution of a remediation plan, we're ready and able to help.
Our team will ensure you meet your industry compliance while staying on top of your cybersecurity posture and managing the day-to-day technology in your organization.
If you are ready to hand off all of your technology responsibilities while ensuring compliance in your industry, this package is perfect!
Investment begins at $5,500 per month.
APPLY TODAY
REACTIVE SUPPORT
Putting out fires, managing emergencies, and day-to-day staff support.
PROACTIVE SUPPORT
Preventing outages, minimizing risk, and maintaining up-to-date systems.
STRATEGIC SUPPORT
Identifying opportunities to maximize efficiency, and prevent downtime.
ADVANCED CYBERSECURITY SUPPORT
Establish industry cybersecurity standards for your organization while maintaining a balanced plan between security and efficiency.
COMPLIANCE SUPPORT
Provide best practices and establish compliance standards for your organization.
TESTIMONIALS
What our clients say
Tsquared has been instrumental in scaling my business. Tsquared does so much more than just IT support – they've become a strategic partner for me. They take the time to learn about your business, understand the challenges that you face and suggest an IT solution when and where appropriate. They simply are a must-have solution for any business or organization.
I don't leave home without my Tsquared Technologies team! In fact, I never need to leave home now because Tsquared helped me transition my CPA firm to operate 100% virtually! Having an information security partner is paramount in this industry, and I am very grateful for Danny Tobon and the support of his incredible team.
I am so supported by Danny and his team that it feels like my small business has its own full-time IT department. Danny takes the time to understand me, how my business runs, and my needs around protecting sensitive information. I have confidently and cheerfully recommended him to others, and the feedback I get from them echoes my own satisfied and grateful experience.
Get notified of the latest cyber tips to get ahead in your accounting firm.
Be the first to know new cyber insights to build or refine your technology with the tools and knowledge of today's industry.
Frequently Asked Questions
How does the flat-rate fee for unlimited support work?
We've realized that charging per service simply doesn't work in I.T. Ultimate efficiency is achievable only when the entire setup is properly managed. Therefore, we provide you with a complete solution that drives results for your firm.
Are IT support services only for big corporations?
No - we believe all businesses should have access to professional IT support. Even if your business is just one person, we can help.
Can I change my plan later?
Of course! You can change your plan at any time. This gives you full flexibility keeping in mind your business growth.
What is so great about the Advisory plan?
Tsquared provides end-to-end compliance management to gain industry compliance. Whether you're needing a security risk assessment or execution on a remediation plan, we're ready and able to help.
How many employees are included in the Advisory Plan?
Each organization can have up to 20 employees. You can add additional employees at an extra cost. This is an effective way to expand your business.